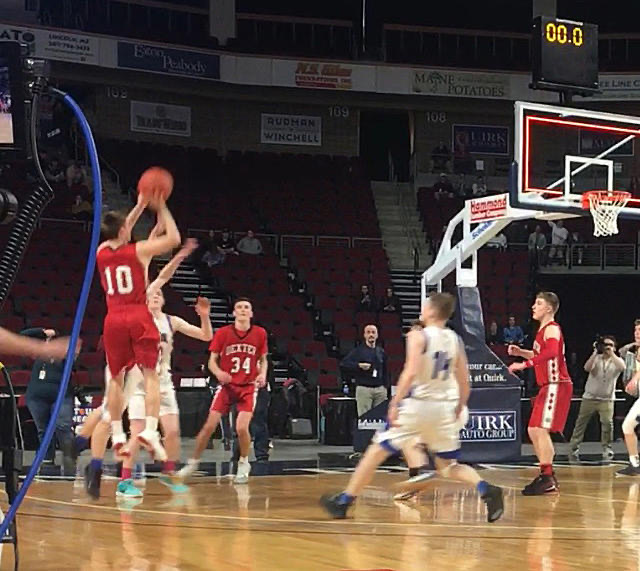 92.9 The Ticket
In the majority of situations controversy turns the wheels of change. This year's Maine Principals Association State Basketball Tournament saw controversy, but will change follow? 
The Class C Boys Regional Final pitted the first seeded Central Aroostook team against the second seeded, undefeated Dexter squad at the Cross Center in Bangor. At the half, the score was lopsided in favor of the latter team, but with a 9-0 run to close the third quarter, the Panthers brought the game within two. It would be back and forth all throughout the final frame, but with 17.3 seconds it was Central Aroostook that had the lead and the ball. seconds later that was not the case, a Panther turnover and an ensuing timeout gave Dexter one last opportunity with the game and their season on the line. The Tigers swung the ball around the three point line before finding junior Parker Ponte on the wing. Ponte let a shot fly as the clock wound down.
Did he beat the buzzer? 
The referees conferred and said yes.
The video replay appears to say no.
However, that replay can have no effect on the call made on the floor, because Maine is one of 33 states to use no form of video replay in its state basketball tournament. Why? Countless County basketball fans have posed that question since that controversial shot on February 22, and after looking into it, it's not for a lack of the ability to do so.
The nationwide governing body for high school athletics (The National Federation of High Schools, or NFHS) began allowing the use of replay in state basketball tournaments for last second shots in regulation and overtime in 2011, so why not implement it in Maine? It should be about ensuring the right call is made in the end. In cases like this, where it's too close to call, why rely solely on what was seen by the naked eye and not take the time to pause and rewatch the play to make sure you're right? Confirmation never hurts, and if the call on the floor is overturned because of the replay, then the right officiating decision was ultimately made and any possible controversy should be dulled.
 It's not as if it's a new concept to high school sports in this state., In ice hockey, video replay can and is used in five different situations surrounding a goal or no-goal call in every round of the playoffs from the semifinals onwards.
It's a matter of the MPA coming together and instituting this seemingly no-brainer of a policy change that could prevent other situations like this from occurring. Championships defined by controversy can haunt both the winners and losers alike.