Album Review: "Reputation"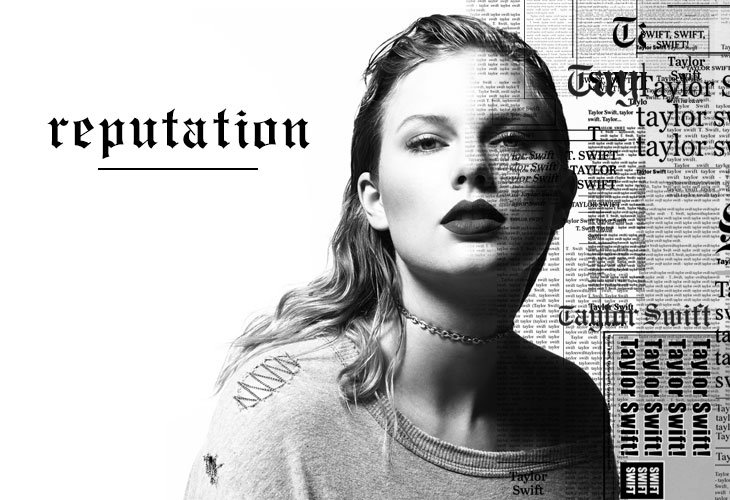 We're sorry, the old Taylor can't come to the phone right now. Why? Oh, cause she's too busy breaking records with her new album Reputation.
Taylor Swift once again shows off her amazing songwriting skills with a new number one album. Reputation dropped November 10th, selling approximately 2 million copies, worldwide, in the first week. Reputation is a collection of love songs all executively produced by Swift.
Once again, Swift uses her personal life experiences as inspiration for her latest album. All 15 songs on Reputation talk about her public reputation and falling in love in the midst of the drama. Each song on the album has a similar but unique sound.
Reputation is divided into two parts. The first half of the album, (…Ready For It? – So It Goes…) depicts the past two years of her life. From the drama and hiding her best love story to accepting that the media will never let her have a normal life.
The second half of the album, (Gorgeous – New Year's Day) depicts how happy and in love she is right now and how she no longer cares about what others think.
Unlike Swift's other five albums, (Taylor Swift, Fearless, Speak New, Red, and 1989) there aren't hidden messages in each song. Instead Swift has chosen to be open about who her songs are about on this album, but it's easy to figure out who the other songs are about if you know as much about her as her fans do. Swift told fans at the SS (secret sessions), held in four of her houses, that all the songs on Reputation are about her "God sent, angel boyfriend of one year."
Reputation is the perfect album for anyone looking for a pop album with meaning. Each song has a lot of emotions and meaning, making it different than most pop albums released in the past few years. All of the songs on Reputation are lyrical masterpieces but a few songs are quickly becoming fan favorites. Here's a breakdown of some of the big fan favorites.
Starting off with the second single and first song from Reputation, "…Ready For It?" has a slow rap feel. With lyrics such as, "if he's a ghost, I can be phantom holding him for ransom" and "if I'm a thief then he can join the heist and we'll move to an island and he can be my jailor, Burton to this Taylor." This song became a fast hit. The line "Burton to this Taylor" is a reference to the infamous love story between Elizabeth Taylor and Richard Burton. Liz Taylor was married eight times before meeting Burton and falling in love with him. Swift has a total of eight exes and has finally found the guy she wants to spend the rest of her life with, Joe Alwyn. The part that makes this song a music masterpiece is how the verses and pre-chorus are strong but the chorus is light.
The next song is the first single, "Look What You Made Me Do." This song broke more records in its first week than any other singles she has released and has been named 3x platinum. tarting with a very spooky feel it fades into a revenge feeling for the whole song. This song actually started out as an emotional poem and all the verses in the song are from the original poem. The chorus was cut down after being recorded because Taylor and the co-producers liked the edgy feel of "look what you made me do" being repeated.
Next up is a flirty song that was released as the third single off of Reputation. "Gorgeous" topped the music charts and created a lot of buzz over the adorable baby voice at the beginning of the song. In this song, Taylor admits that it was love at first sight when she meet her boyfriend, Joe Alwyn. With lines such as "Ocean blue eyes, looking in mine, I feel like I might, sink and drown and die" and "You make me so happy it turns back to sad/there's nothing I hate more than what I can't have/I guess I'll just stumble on home to my cats…..alone/unless you wanna come along," it's pretty obvious that Taylor was falling in love since day one.
Lastly, "Call it What You Want" became the fourth single off of this album. According to Swift, this song accurately describes how happy she is right now. "CIWYW" has a soft and romantic atmosphere to the song. There are several things that relate to previous songs that she has released. Some examples are, "my castle crumbled overnight" – "I could build a castle with all the bricks they threw at me", "All my flowers grew back as thorns" – "All the flowers we grew together died of thirst", and "you don't have to save me" – "Romeo save me". This song has been a topic of controversy over who the song is about but with the line, "I want to wear his initial on a chain round my neck/chain round my neck/not because he owns me but because he really knows me," it's obvious this song is about her boyfriend, Joe Alwyn, because of the necklace she has been wearing a year with a "J" on it.
Fans are loving the openness that comes with this album because it shows just how happy Taylor is at this point in her life. It's no secret that I am Swift's biggest fan (like, ever). Watching her grow as a person and watching her go from slamming screen doors to buying a dress just so her boyfriend would take it off her, I have seen her music develop over the past 11 years. Even though Red will always be my favorite album and it definitely deserves a Grammy, Reputation is the best album Swift has released so far.
Go buy Reputation and don't forget to download her new app, The Swift Life, while you're at it. Taylor has grown a lot as an artist and as a person and this time, she's naming names.