New freshman class brings new fundraisers
In addition to adjusting to high school classes, freshmen also need to focus on fundraising. LeRae Kinney, the Class of 2022 adviser, is no newbie to advising. In 1998, Kinney started advising with the Class of 2002, and she has already brainstormed many ideas for this year's freshmen.
One of the fundraisers happening currently is called "Boo Your Neighbor." "Boo Your Neighbor" means you pay $25 to have someone of your choice boo'd, and students from the class put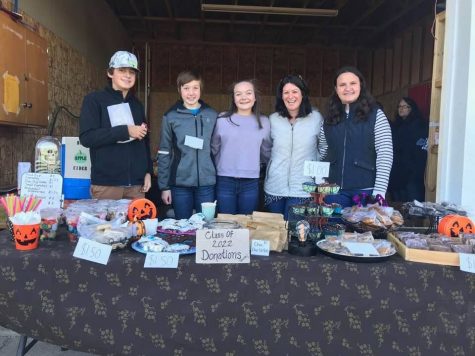 as many ghost decorations as possible on the homeowner's lawn. After the house has been "boo'd" the home owners have 48 hours to pay $25 to pass the boo'ing onto someone else. "We are hoping to make $850 just from Boo Your Neighbor," said Kinney. "So far someone has been boo'd every day, and I am hoping it stays that way."
"I like 'Boo Your Neighbor' because we can repeat it all four years," said Madison Hedrich, Class of 2022 president. Even some freshmen have been boo'd, such as Ben Duprey '22. "I was home when Madison came to boo my house, so I went outside and helped them. It was actually really fun to boo the rest of my family."
In other fundraising efforts, the class also sold baked goods at one of the home soccer games and made well over $400. The class cabinet also has a lot of fundraising ideas such as a mother's day tea and silent auction and possibly going apple picking.
"I think that the class of 2022 is in a very good place with money at the moment," said Kinney.