"…And that's a Wrap"
New director works with veteran cast.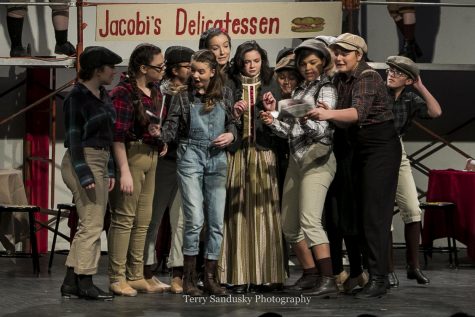 Director Dennis Kouch and the Shipmates Playhouse performed  Newsies", November 9, 10, 11, 16,and 17 at the PIHS auditorium.
"It was great for me to come back home and work with the students in the theater where it all started for me," said Kouch. "I graduated from Presque Isle High School in 1976  and was a member of the SHIPMates Players. I really want to give back to the space and the school that gave so much to me."
Kouch  retired in 2014 after over 30 years of working at universities around the nation as a student development professional.  Along the way he had many adventures and opportunities that all began with his time and education at PIHS.
"What I learned there in and out of the classroom gave me the skills and confidence that I needed to succeed," said Kouch. "Now I want to return to give back."
If you missed the play, here's a Recap: This year's production, "Newsies," was originally a Disney movie that was then made into a Broadway show.  The musical is based on a true story set in 1899 when the children of New York City went on strike against their employer, Joseph Pulitzer, publisher of  The World newspaper for two weeks. In the musical, Jack, the leader of the newsies, meets Katherine, a reporter who is Pulitzer's daughter. She wants to help them publicize their story. Pulitzer then blackmails and threatens Jack and his friends if he doesn't stop the strike. Jack decides to go against Pulitzer, he and Katherine gather all the working children of New York to strike with them. Governor Theodore Roosevelt then confronts Pulitzer, convincing him to compromise and end the strike. "It [the strike] was the start of large scale organization," Jaidyn "Jai" Blake '19 said.
New Director: Student's who've been a part of the SHIPMates from previous years had to do some adjusting. Students were more involved in the process of the production of this play. For example, a lot of them came up with the choreography by themselves.
Behind the Scenes: Kouch also cleaned the entire backstage, organized, supplies and helped work on the student's acting and chemistry and character development. "This year was organized and very fun to be a part off," Landyn Newlands '21 said.
Obstacles: "There are always things that you don't know will happen and you try to be as prepared as best as you can," Kouch said. He thought that they would have been able to rehearsal more over harvest break. Also, one of the shows got cancelled due to the weather and there was confusion between the two casts about which would be able to perform the next day. The dancing and singing were difficult too.
In the End: The five standing ovations the cast received proved they did a good job.
"Putting a big show on has its moments, and our moments were ones of warmth and friendship," Kouch said.