Moana on Ice
Northern Maine Figure Skating Club presents their 37th annual musical on ice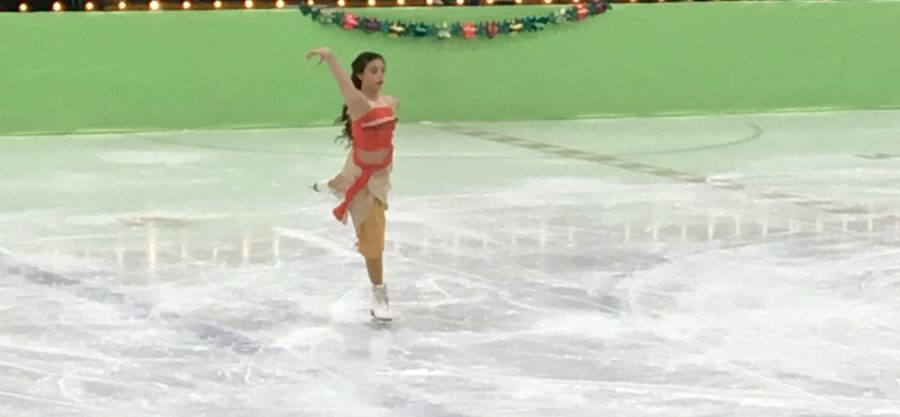 On Saturday, March 9, the Northern Maine Figure Skating Club presented their 37th annual musical on ice, "Moana,"at The Forum in Presque Isle.
The skaters and their eye-catching costumes helped to bring out the wonderful story of Moana, an adventurous teenager who sails out on a daring mission to save her people. During her journey, Moana meets the once-mighty demigod, Maui, who guides her through her quest. Together, they sail across the ocean on an action-packed voyage. Along the way, Moana fulfills the ancient quest of her ancestors and discovers the one thing she always sought: her own identity.
Alexis Michaud, PIHS '20, was one of the PIHS students who performed in the musical played the lead role of Moana. "Other shows I've never been the main character, but this year I was Moana, so I was in a lot more routines," Michaud said. This is her eleventh year of skating with the NMFSC. She has been working towards testing in the USFSA Preliminary level. She successfully passed the test, which allows a skater to progress through a sequence of logical steps in their competitive development, at The Ice Vault in Hallowell, Maine.
"Learning a routine on such short notice was a challenge," Michaud said. Every time she came out on the rink she had a big smile on her face. The show was everything the cast hoped it would be, "It was very fun," said Michaud. Behind the scenes, the cast sang along loudly to the well-known music.
In any performance, there are always mishaps or surprises that can happen, and you just have to be as prepared as you can. The cast of "Moana" did a great job at that. About halfway through the show a little girl performing with a group started to pull out her costume feathers, which everybody loved, but the show went on and the group kept dancing on cue.  
Overall, from the very beginner to the most advanced level of figure skaters, the NMFSC put on a stellar performance of  "Moana," which brought the show to life.