Presque Isle High School DI team Heads to Global Finals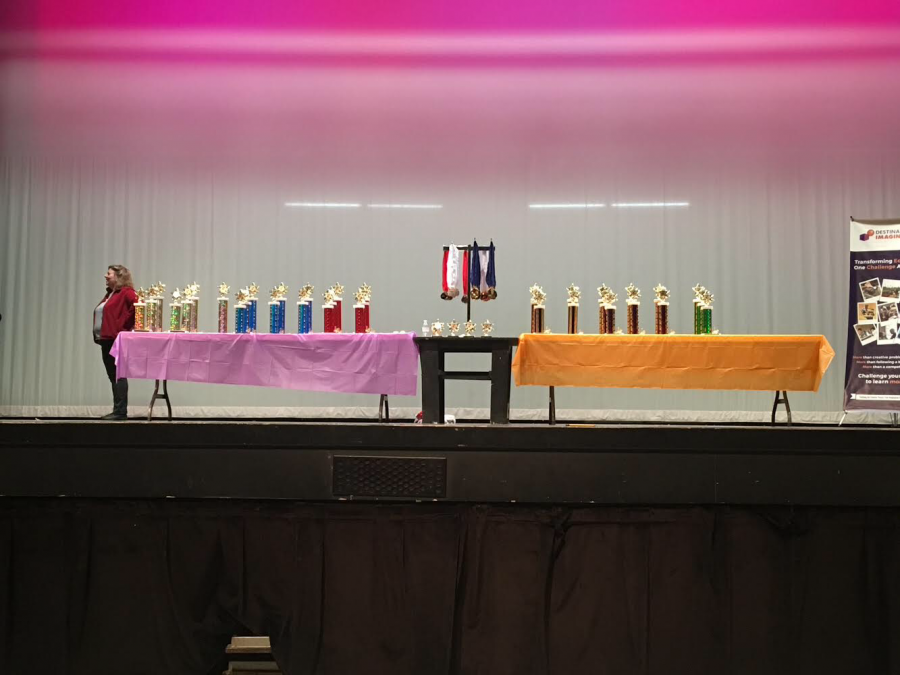 A group of five teenagers sit at the library table. One expresses stress about a family emergency, the other is worried about college. The rest of them laugh and joke to cheer up their teammates. After taking a moment to discuss the day's practice, they grab their Gatorade and start building.
Destination Imagination is an organization that creates art with STEAM (Science, Technology, Engineering, and Mathematics). The program has elementary, middle, and secondary levels. There are several challenges from which a team of no more than seven members can pick. Two PIHS Destination Imagination teams prepared for the state level competition on March 23. The event was held at Bangor High School.
Valerie Black has been a DI coach since the 2010-2011 school year. One of the unique challenges about being a DI coach is that she has to be completely hands-off. In the beginning it was hard for her not to want to pitch in and help, but over time it has become easier. The hardest part was watching a team struggle with making a technical item work and not being able to help them. It is very tricky to find resources but not problem solve for them.
"There are times when I want to guide a team to add more to their challenge to make it more appropriate for secondary level," Black said. "By now I have seen enough teams come up with great ideas that I would never have thought of that I trust the process and have found it more enjoyable to see what the teams come up with on their own."
Anna Robinson '19 has been in Destination Imagination for seven years. She is part of the Engineering Team, and their challenge was called Monster Effect. They were expected to build a structure that could hold a significant amount of weight and have it removed without breaking. Additionally, they had to create a special effect that revealed a monster.
"I felt really confident about our structure and set," Robinson said. "We have a lot of great artists." Destination Imagination is something that Robinson has done in the winter to make the long winters easier. There were a lot of things they had to do to get ready for States and she did not feel prepared.  But looking back, coming together as a team after losing a teammate had been a rewarding struggle, as well as getting the special effect done.
Bethany Baker '21 has been in the club for five years. Her team's challenge was the scientific one, called Medical Mystery. The team was expected to create a skit around a made up illness and portray it through a technical element. The technical aspect was the hardest part of her challenge.
Destination Imagination gives Bethany a creative outlet to show her weird side. She says the organization lets her grow. "We are dependent on each other. DI teaches me to step down and let other people do things," Baker said.
The Engineering team placed second at States and will not head to Global Finals, while the Scientific team placed first and will head to Kansas City in May. A group of hard working teens have a place to express themselves. And a place to have plenty of cherished memories.