Former PIHS Athletes Move On and Up as College Seasons Begin
As the fall sports season gets underway, former PIHS grads meet greater challenges on the field of play than ever before, but greet them with a bold face.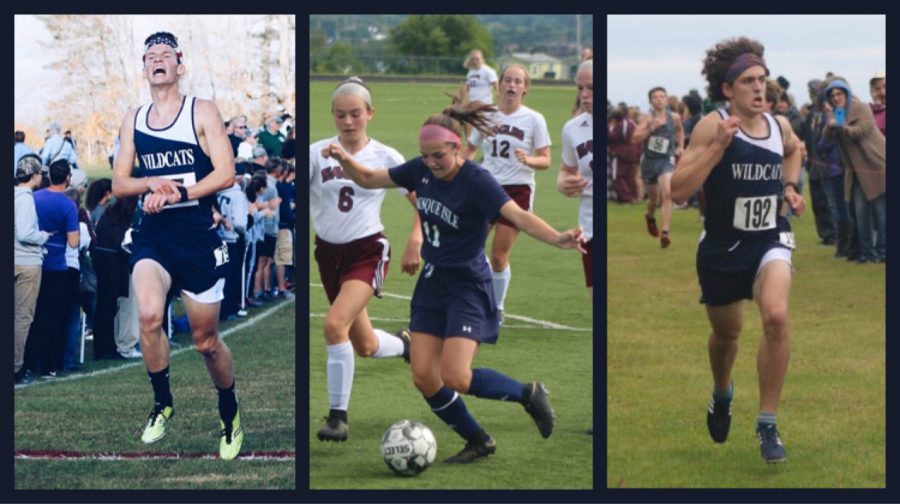 It's the dream of every athlete to compete at the highest level of his/her respective sport, and for some of our recent graduates, that dream has become a reality.
Incoming St. Joseph's College freshman and 2019 PIHS graduate Madison Michaud is already in the midst of her first season with the Monks, scoring her first career goal in a 3-0 rout of Husson on September 1. "It's very different from high school, very tough," Michaud said of some of her first experiences. "I moved in a week earlier than the regular students and started with two sessions a day, each session is two hours and there is an hour of treatment before each practice," Michaud said via Instagram.
In her career as a Wildcat, Michaud totaled 122 goals, leading her team to back-to-back record breaking seasons for the program her junior and senior seasons, good enough for fifth place all time among girls in the state. Capping of the multitude of awards won over her four year stint with the program was her selection as an All-American and the 2019 Class B Player of the Year.
There's certainly no shortage of skill in the competition Michaud will be facing throughout this upcoming season, as she herself realizes. "The players have more skill, most of them are from out of state," she said. But that doesn't seem to faze the two time Northern Maine champion much, as she goes on to say, "I'm getting more pressure than in high school, but it's good!"
No stranger to pressure is incoming Thomas College freshman Owen McQuarrie. The 2019 Presque Isle grad competed at the state level for track and field for the second straight season last year. As he prepares for this upcoming cross country season, he recognizes the talent he's facing. "There are a lot of really strong athletes," he said. "That could be because of the culture or because there are more people in this area than in Presque Isle." 
With a bigger school, more in the way of the athlete's personal accountability exists, both for one's training and health. "It's a little hands-off," McQuarrie said. "Everyone is expected to do what they're supposed to do. We have a bunch of equipment for recovery that anyone can use," he added, "so we can train more without getting as tired as we would usually."
The Terriers began their season right here in Presque Isle on August  31, finishing in second place out of four teams. They maintained this same pace last weekend, finishing second out of eight teams in the NVU invitational, taking place in Lyndonville, Vermont. McQuarrie finished with a time of 23:53 in the race close to home, but faltered a bit in unfamiliar territory, ending at 28:18 at NVU.
Coming into this fall with a little more experience under his belt is Bates sophomore Max Bartley. The 2018 Presque Isle grad has been hitting his stride this off-season as he looks to improve from last year. "This summer I was able to consistently hit higher weekly mileage and I focused on incorporating longer long runs into my training," he said. "After a full year of college running I knew what my coach and teammates expected and I felt much more confident in my training." 
It's a big difference, Bartley says, between high school and college in terms of what it takes to be successful. "The training is definitely more intense and involved than in high school so yes, expectations have definitely changed when compared to high school." What's required to take the next step is more than just talent alone. "In order to run successfully at a collegiate level you have to invest in not only the training but also the team and program as a whole."
While the level of competition may have changed, the comradery that exists in a team environment has stayed the same. "The culture and team didn't take long to get used to," Bartley said. "The team was very welcoming and supportive so it was a fairly easy adjustment." 
The Bobcats opened their season September 7, beating Colby College for the third straight year in the annual class wave races at Pineland Farms. Bartley ran a 22.32 6k (3.7 miles), and they race again this Saturday in the Bates Invitational.
Taking the jump to the next level may seem to be intimidating, for some of our recent graduates, it's become a welcome challenge.