Demerchant Becomes Thirteenth Player to Reach 100 Point Plateau
Presque Isle forward Connor Demerchant has become the thirteenth player in Presque Isle HIgh School history to reach the 100 point mark.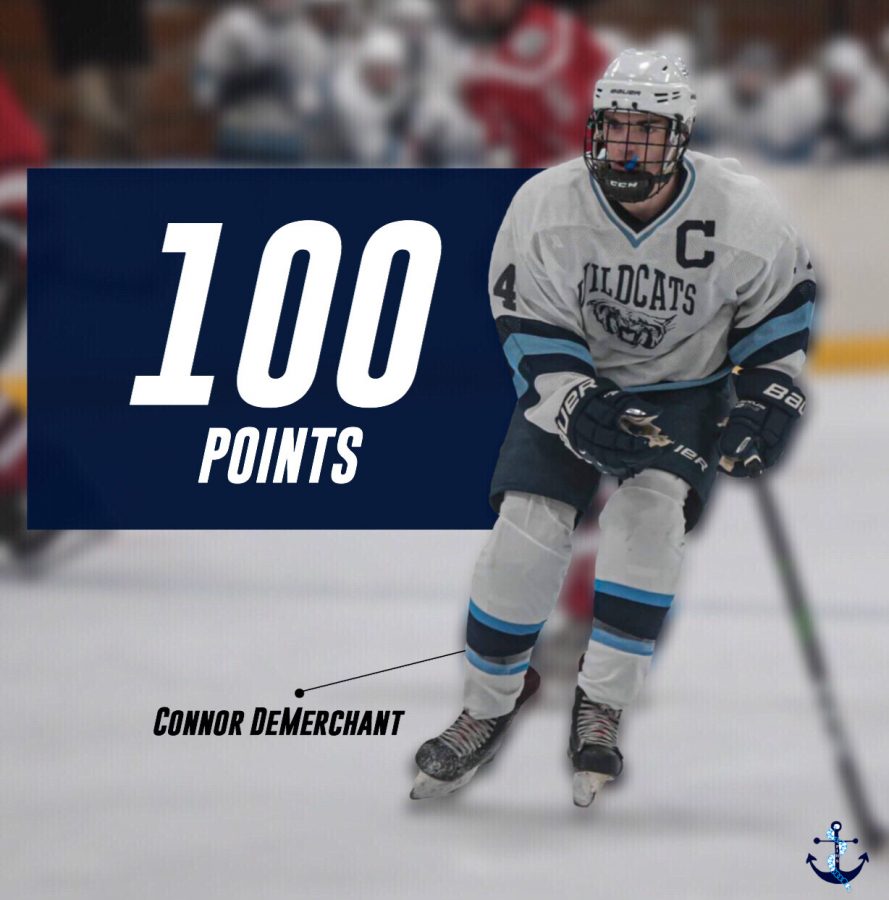 Story updated on 12/17/19
For the thirteenth time in Presque Isle hockey history, there is another 100 point scorer. Senior forward Connor Demerchant has hit the mark with a seven point outburst in the Wildcat's 9-2 rout against the Kennebec Riverhawks, who fall to an 0-3 record on the season. 
This comes in the midst of a large group of players hitting the mark in a short span. Last season, seniors Jake Stevens and Thomas Patenaude achieved the feat, Patenaude doing so in his last ever game, a heartbreaking 6-5 overtime loss to the same Kennebec team in the Class B Northern Maine semifinals.  
The realization that he could accomplish this feat set in early for Demerchant. "It was probably after freshman year, honestly. I didn't really end up with as many points as I would have liked, but I had 14 goals, so I figured, well, if I can get 14 goals my freshman year, I can probably get to that mark." 
"Going to high school games as a little kid, you look up and see the 100 point club over there and you just want to be that good of a player one day," Demerchant went on to say. "Brennen [Shaw] was one of my big idols growing up. I'd watch him when I was young and I always wanted to be like him."
Beginning his career on an upward climb and never looking back, Demerchant has seen significant increases in his point total each of his three seasons as a Wildcat. A 20 point freshman campaign was followed up with 28 points his sophomore year. A year ago, playing for a team tied for the highest goal production in the state, he finished the year with 38 points, tied for fourth in Class B North, and 23 goals, also tied for fourth in B North.
This season, the other two members of Demerchant's line are creeping up on the 100 point mark. Juniors Gage Letourneau and Colby Carlisle are 16 and 22 points away from the mark, respectively. In regards to career point totals, Demerchant acknowledges that the two will likely surpass his in the next year or so. "They had a better freshman campaign than me, and they still have another year to go, so they probably will," he said.
The Wildcats' next home game will be on Wednesday, December 18 at 5 pm against the Brewer Witches. There will be a ceremony for Demerchant before the game where he will be presented with the 100 point plaque that will join the others by the entrance to the warm room at the Public side of the rink at the Presque Isle Forum.