JV II Boys Basketball Eliminated Due to Low Numbers
Low Numbers Means Hiatus for Longstanding Team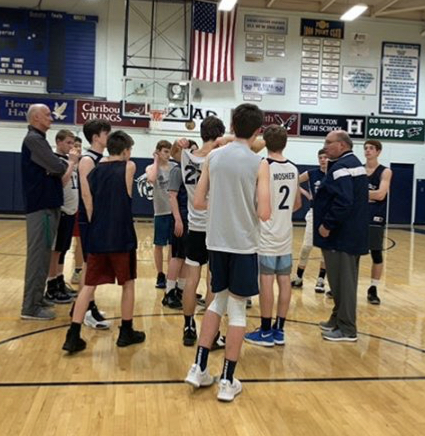 For the first time since the freshman boys basketball team shifted to JV II, there aren't three PIHS boys basketball teams during the winter sports season.
"This is my 27th year in SAD 1, and it's the first year I can remember that we don't have one," said Athletics Director, Mark White. "Only twenty-seven players tried out for the boys basketball teams this year.  With only about twelve on a team, there just aren't enough players for a JV II team," White said.
Other JV or JV II level teams have either been put on hiatus or could be. White thinks there may be a similar problem for JV baseball and softball. "A lot of people don't realize that we used to have a JV II girls [basketball] team and technically one is still on the books," White said. "If we ever got a mass influx of girls, and had enough for three teams, that team is all set to go." Like the boys JV II basketball team, it all depends on the size of the freshman class and the number of players who try out.
A benefit of not having a JV II team is more players on the other basketball teams' rosters.  "Last year we had seven boys on the team and we shared some with junior varsity," said the boy's JV II coach for the past nine years, Dave Whitaker.  Fewer teams with more players can be helpful, instead of having multiple teams with fewer players.
"We want to have healthy teams. We don't want teams with five or six people and rely constantly on swingers," White said. To make it easier for the players, there will be one less team, so they don't have to attend multiple practices.
For some former JV II players, other sports took priority, and they decided to skip basketball to be ready when their main sport season comes around. Last year Sidney Smith '22 played on the JV II boys team, but didn't try out this year. "I don't have time right now, and so I'll focus more on track than basketball."
"High school athletics compete with with jobs, travel teams, AAU, and AYBL," said White. "All of these groups are trying to pick at the same group of kids." Smith agreed with the fact that students may have conflicts that keep them from committing to a sports season. "During this time of year, most high school students usually have jobs," Smith said. "Some might not have time to fit in practice as well their jobs."
With no JV II team this year, some money will be saved on officials and busing.  However, White sees those costs as worthwhile, if and when the team returns. "For the few games that the JV II teams play, we believe that the experience is worth the expense," said White.
Coach Terry Cummings has been the PIHS boys varsity basketball coach for nine years. "I don't think it's going to have that big of an impact on the varsity program because numbers are dropping everywhere," Cummings said. However, "The teams need bodies, and the more guys we have the more competitive the team," he added.
Tim Prescott spent one year as the JV boys basketball coach and then the next twenty-six years as the head coach for the PIHS boys basketball program. He shares the concern about lower numbers of students trying out.  "You always have concern when there's not enough student participation to meet the demand of fielding another team," Prescott said. "You just went from thirty-six uniforms to 24, so if our students are serious about basketball they better start doing their part."