A Wildcat Out of Fire: Stories from the Life and Career of Dave Maxcy
In light of his recent induction into the Presque Isle High School athletic hall of fame, here's a look back into the long and eventful life of the school legend that is Dave Maxcy.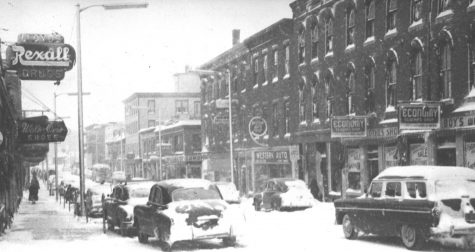 Growing up on the Rock: 
Growing up in the midst of a global conflict, the childhood of the man we know now as Mr. Maxcy was marked by war. "It seemed like everything we did was always influenced by the war (World War Two)," he said in an interview. "Like how much we traveled, where we went, or whether we were collecting tin cans for scrap and all those kinds of things." That aspect of life did nothing to hamper his competitive spirit though, as his childhood is where his athletic roots can be traced. "We had seven or eight kids that were all a similar age to me and we would race down Birch Street in Rockland which is now the main traffic area, so we wouldn't be doing that there anymore," Maxcy said. As he made his way through his youth he competed in almost every sport available to him. "I liked anything that was a sport, whether it was going to the gym and shooting basketballs or running, or skating when I was in high school, I just liked anything, swimming, anything that was going on I'd want to do it," Maxcy said. His 'do it all' attitude led to some interesting experiences as he grew older, including his first experience with Presque Isle during a basketball tournament in his high school days, playing for the Red Storm of Scarborough. "We had a doubleheader basketball game in Portland., I can't remember who we played but Presque Isle was playing Westbrook," he said. "That was the big game of the night, and we had the warm up game."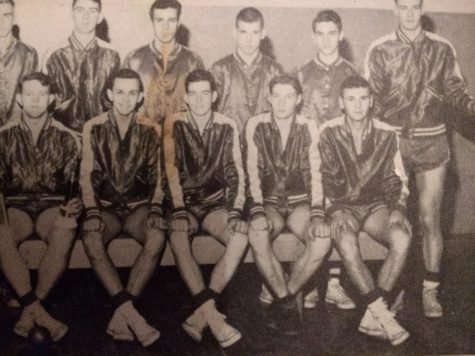 The College Days:
Fresh off a successful academic and athletic career in high school, Maxcy headed off to the University of Maine (Orono) with running in his heart and chemistry in his mind. "When I started I was going to major in chemistry," he said. "I soon found out that I didn't like chemistry that well. I had liked it in high school, but in college it seemed to be different so I shifted to education." As he was setting the stage for a later career, Maxcy was also experiencing success at the collegiate level in Track, running the 220, 440, and 880 meter races in the springtime and 300 and 600 meters when it was time to head indoors, and posting rather impressive times in each event. "It was a lot different [than in high school];, we competed in the Yankee Conference (now disbanded), so once a year we'd get a trip down to Connecticut to run there, and usually the two or three big away trips would be to New Hampshire and Boston College, as well as Connecticut," Maxcy said. "Most of the time we went on a bus, once we went on a train to a meet in Boston in the winter time," he continued. "Our coach was going to retire that year and passenger trains were just about ready to be phased out, so he thought we should have one last train ride. It was a pretty fun trip."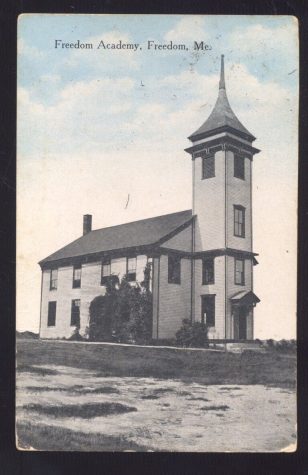 Freedom Burns:
Entering the real world with an education degree to his name, Maxcy found work in the southern part of the state at Mount View's predecessor, Freedom Academy. "I was looking for a job, and that particular year they seemed hard to come by," he said. "Freedom Academy was a really good experience, the principal there was a great guy." This would be the beginning of his coaching career, as he was named the school's basketball coach along with his hiring as an educator. "When I went there they'd had a good team for two or three years previous, and that team had mostly all graduated, so they said 'you'll be lucky to win a game'. We won about half our games so I guess there was some success in it." Those times did not last however, as in late January of that year, the school's existence as he knew it came to an end. "It was around this time when the school burned," Maxcy said. "They burned coal for fuel and I think there was a spontaneous combustion in the coal bin which was in the basement of the school so it fed right up through the floors in no time at all." This was not the first time the school had gone up in flames. Exactly ten years previous, the first Academy, along with the town's fire trucks, which were housed in the basement of the school, were destroyed by fire.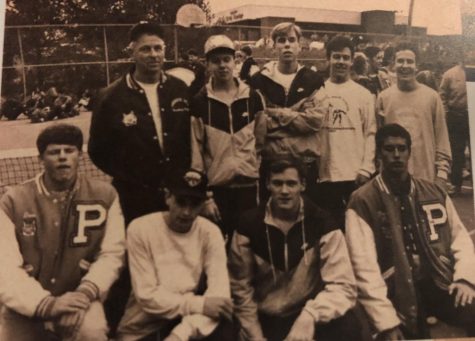 Becoming a Wildcat:
In the wake of the burning of Freedom Academy, Maxcy was approached by a few schools seeking his teaching talents, but he ended up settling in Presque Isle for it's coaching opportunities. "I got a call from a superintendent in Washburn but that wasn't coaching, they didn't have track, so it was just basically teaching and there were a couple of schools downstate, but I wanted to coach track, that had been the plan all along," he said. In addition to coaching track, he was also a coach of the cross country team which experienced perhaps the most successful years in the program's history upon his arrival, winning back to back to back state championships from 1960-62. "I was lucky that we had so many kids out for cross country," said Maxcy. "There were a lot of good athletes that were coming right along and also I was coaching with Jim Lyford who was a really good coach, too."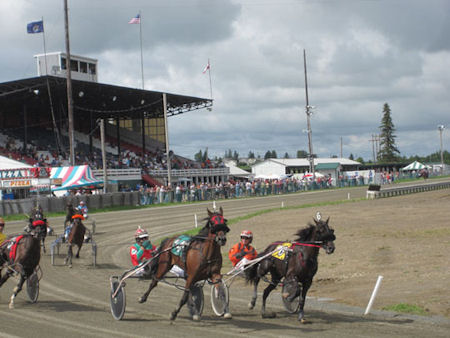 The Old . . . Old Track:
Most people know that prior to the construction of the track at Presque Isle Middle School's Gehrig Johnson Athletic Complex, the home of the track and field team was located adjacent to the softball and baseball fields at the high school. What most don't realize is that prior to the installation of that track, the team competed and practiced on the horse racing track down at the Northern Maine Fairgrounds. The student athletes'  competition, while mostly human, occasionally sported four hooves. "They'd be training with horses during our practices, and sometimes guys would holler and say, 'hey give me a race.' You could do pretty well for about the first fifty feet or so, but by the time you got to the corner the horse was fifty yards ahead of you," Maxcy said. "The distance of the track isn't exactly the same [as a regulation track] because on a fairgrounds track, they measure out four feet from the rail for the horses, but on a normal track they only measure a foot out so when you're running, you've got a little shorter run."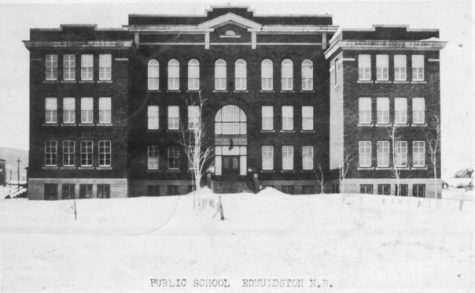 Oh, Canada:
At this point in history, The County was rather stretched thin for meet usable tracks, so instead of being forced to travel downstate to compete, a rather interesting solution was developed: Madawaska would host meets just over the Canadian border in Edmundston, New Brunswick. "It was a nice track, it was better than any in the state of Maine at that time," Maxcy said. "We faced Canadian kids but I don't think they actually had any teams, it was just basically Presque Isle, Madawaska and Fort Kent when we went up there." Getting "up there" was no where near as burdensome as it would be today: border security at that time was basically just a formality. "They just asked, 'How many kids do you have on the bus?' and that was it.  Just as long as we had the same number coming back that we had going over it was  fine."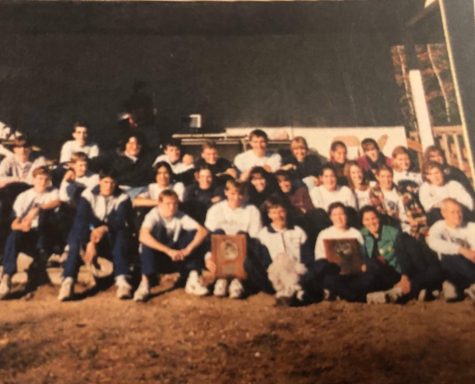 Pure Dominance:
In those days the talent put forth by the majority of County schools in the sport of track and field was lacking to say the least. Our school was a major exception to this, "We had a lot of kids that were really interested in track and good at it," said Maxcy. "Houlton didn't have a whole team, they had some empty events and Caribou had a couple of kids. We were the only team that was really taking track seriously." And that seriousness showed in the end result of a County Championship meet that took place in Houlton,  in perhaps the most lopsided victory in the history of our high school, the Wildcats won the meet by a score of 183 to 1; the singular point by the opposition went to a Houlton pole vaulter for his third place finish in the event, one in which we only had two athletes competing, the first and second place finishers. While the meet itself was went along smoothly, the trip there was quite the opposite. This was before the time of the modern yellow school bus, so with Maxcy himself behind the wheel, the team set off aboard a rickety, old, worn out bus painted green. "It would barely make it over the hills," he said. "You would have to get down into the lowest gear to get up some of the hills around Bridgewater. You're just hoping you're going to get from here to there. I've had plenty of experience driving an old potato truck, and it was not quite as good as that."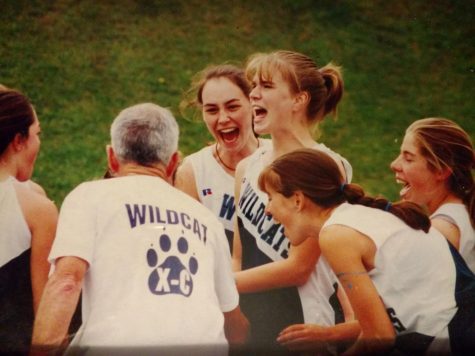 The Athletes: 
The 90's saw a multitude of success for Maxcy's teams, the likes of which had not been seen since the 60's, brought about by a surge of dominant individuals in the running sports. Four Eastern Maine Cross Country Championships were captured in the decade, including back to back to back championships in 95, 96, and 97 for the boys team. The defining factor in those wins were a set of twins that included our very own Michael Waugh and his brother, Chris. "I'd had them for students when I was teaching at Cunningham, I figured when I spotted them in the mall (one day) that these guys liked sports, they were both pretty small kids coming into high school and they would probably have loved to be playing something else, but maybe they would do cross country," he said. "They kind of gave me a strange look and their mother said 'yeah they'll do it'. We had five good runners, they were the two best of the five." In track, he coached numerous incredible athletes over this time span, including Melissa Blackstone, who captured the state record in the 800 and 1600 meter during her high school career. "They worked hard, Angela Pulcifer doing the discus, taking I don't know how many throws, she had a good natural move for it. Danielle Donovan and Melissa Blackstone, we had a group of girls that were really good runners and went on to college and ran well there," said Maxcy. "Nicole Pelletier, she held the the American East steeplechase record when she went to college (at UMaine), Danielle Donovan and Angela Pulcifer also went there."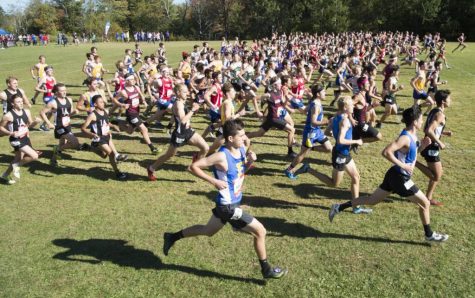 Leaving a Legacy: 
The coaching career of Dave Maxcy left not only a string of championships in its wake, but also institutions that serve the betterment of athletes and teams for years to come. "We used to have an annual meeting of all the different sports, we'd meet somewhere in the spring. All the coaches would meet and then you'd split into your team (separate sport) meetings, the ones for track and cross country for a couple years in a row didn't go very well, the person we had for a speaker one year didn't show up," he said. "So five or six of us said, you know, there's got to be a better way, we had to go through the state organization but we said that we'd like to form our own group and do our own thing. There was two coaches from Brewer, Danny Paul was here with me at Presque Isle, and George Mendros and Thornton Academy." That would come to be the formation of the Maine Track and Cross Country Coaches Association. "We had all our meetings at USM, and we'd get a really good person to come in and speak," Maxcy said. "I don't know if you can say how much it affected it but since about that time we've had a string or really good track and cross country athletes that have been from Maine, like nationally ranked people." He also was a major contributor in the development of the cross country course at Troy Howard Middle School in Belfast "They had been having the regional and state meets every year at Augusta and there were always a few issues that year with that course, if it was a cold day and had been raining, there was an area right out of the start where the kids would have to run through a long stretch of cold water," he said. "It seemed to happen particularly to the girls that were really good runners, it happened to Danielle Donovan twice, where they would cramp up. We thought that it was just getting all warmed up and then hitting the cold water and coming out, if you're in really good shape, low body fat and all that, that had an effect on it. So again it was the two guys from Brewer, Danny Paul and I, and another lady, we were talking about the course (at Augusta) and she said 'I think we've got a good place at Belfast' and so the next fall, Brewer, Presque Isle, and Belfast were down there four times, running the course and making changes every time and now it's become the main course for the Northern section. 
The life of Mr. Maxcy has been quite the wild ride, from High School to the present day, the athletic achievements of the Maine Sports Hall of Legends inductee both as an athlete and a coach have cemented his legacy as a Presque Isle Wildcat and a Mainer at large, and punctuated with an induction into our own athletic hall of fame.