Family Ties Run Deep in Presque Isle Hockey
There have been a number of 100 point scorers for Presque Isle High School in the last few decades. One name however, seems to appear just a little bit more than the rest.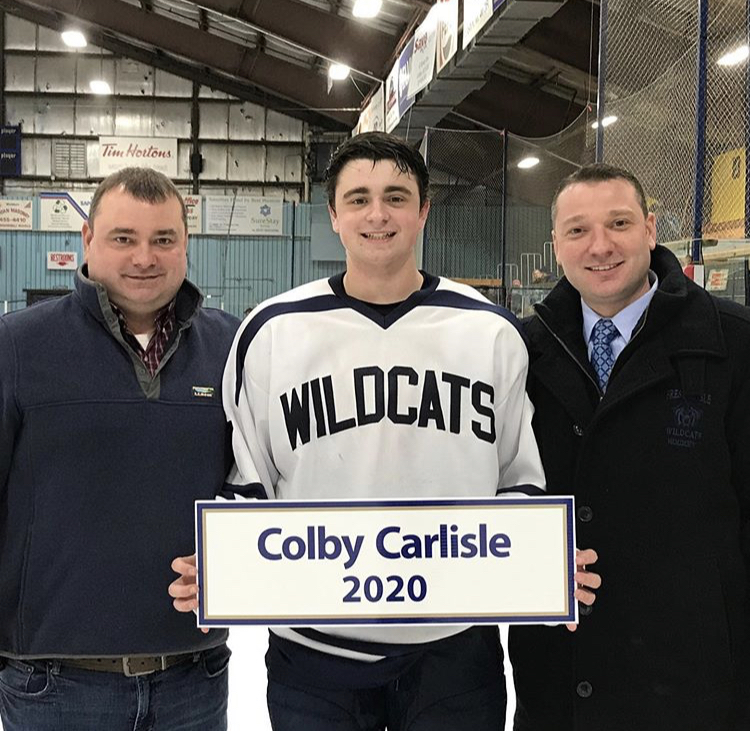 On January 25 of this year, for the fifth time in fifteen games, a Presque Isle High School hockey player joined the ranks of the exclusive one hundred point club. While that ratio may make the accomplishment seem rather commonplace, it actually shows the level of talent that has been walking these halls for the past few years. 
That aforementioned player was junior forward Colby Carlisle, who, with a four point outburst against the Crusaders of John Bapst in the Wildcats' eighth win of the season, broke the 100 point plane. He joined linemates Connor Demerchant '20 and Gage Letourneau '21, as well as 2019 graduating seniors Thomas Patenaude and Jake Stevens, who rounded out the five.
"We all really knew from the start that it was possible," said Carlisle. "My father coached all of us and made us amazing hockey players and he told us we could all do it if we put in the work. To which we put in the work and everything else fell into place."  
The three have not only played together for a majority of their lives, but have also developed a close friendship as years have passed. "I have known Connor and Gage for as long as I can remember," Carlisle said. "I don't have many memories without the two of them in it."
Both their friendship and skills as hockey players continued to grow as they themselves grew, helped along by supportive relatives and coaches, some of which filled both roles at the same time. "For many years we have done pre game and pre practice warmups in the front part of The Forum, " said Douglas Carlisle, Colby's father and coach of the three players for 10+ years in youth hockey. "The boys would often look at and talk about the 100 point club, I always told them they could get there with hard work and doing the extras."
He was not the only Carlisle of a previous generation to have a hand in the success of the trio, as his brother Darren is the assistant coach of the high school team, and within that role fills the identity of the team's forward coach, ensuring he spends plenty of time with the three dynamic offensemen. "I do think that the three of them being on the same line together has greatly affected them all reaching the 100 point mark," Carlisle said. "I have told them before how fortunate they are to have each other and that for the rest of their lives they will have a bond that is inseparable. Not only have they done some spectacular things in the sport of hockey, but if you look at soccer, as well, they have been an offensive threat that played a huge part in winning the Class B Soccer State Championship in 2018. Each one of them brings a different skill to the ice."
January 25 was not the first time a Carlisle has joined the rank of the exclusive club, nor was it the second, in fact, on that day, he became the third member of his family to reach the mark, joining both his father and uncle, who were the inaugural two members in the group that is now fifteen deep. "It's pretty neat to have three family members in the club and to be a father – son part of the club," Doug Carlisle said. "But every name on the list is family. I have had the privilege of coaching and working with most players on the 100 point club, and we are all part of one big hockey family, along with many players that are not part of the 100 point club but added to the goals of many of us to get to the milestone."
Doug was not the only Carlisle brother to share these sentiments, as it seems the idea of one big hockey family is a widespread one. "All Presque Isle hockey players become like family to me and hold a special place in my heart regardless if they reach 100 points or not," said Darren Carlisle. "However, seeing my own nephew reach that milestone and the way he did it that day with a natural hat trick in the first period of the John Bapst game really did jerk me emotionally."
It was hockey that brought them together, but a true friendship has kept them that way, shown by their mutual reactions to the others reaching 100. "This accomplishment is an amazing thing to receive but it is even better when you look up and see your lifelong friends are right up there with you." said the younger Carlisle 
The three have known each other for the majority of their lives, but it's this final season together that has defined their legacy in Presque Isle and as Wildcats. As their time both in this school and as a line comes to a close, what they have accomplished will remain behind, forever leaving their mark in the history books for future generations to look back upon.