Tuesday's Nor'easter Proved to be a Big Boost for Local Snowmobilers
The storm that dumped just shy of a foot of snow on the region earlier this week was just what the area's snowmobiling community needed.
The nor'easter that tore the East Coast earlier this week closed schools and shuttered many businesses temporarily. But on the flip side, it had a massively positive impact upon the local snowmobiling community, for whom the so far lackluster winter had done no favors. 
"I haven't been able to ride a lot this winter," said junior Clay Gregg. "I've only put around 100 miles (on my sled) this year, usually I have 1000 by now."
This most recent storm brought 9-10 inches of snow to the Presque Isle area, about a fifth of the total for the entire winter and half of what is currently accumulated. The lack of snow thus far has made for a difficult season for those who've been hitting the trails, though they've made the best of what they've had. 
"The lack of snow has definitely impacted our ability to ride (this winter)," said sophomore Blake Davenport. A sentiment that was partially backed by Gregg. "It's made the trails bad in some spots but in others the trails were actually pretty good," he said. 
With the storm on the forecast Monday, and the opportunity to ride in good conditions, both were eager for Tuesday's snow day. "When I heard that we were going to get a massive storm I was really excited," said Gregg, I knew that when the storm came the trails would improve." A notion that Davenport echoed. "The storm did excite me and it's really going to benefit the trails a lot."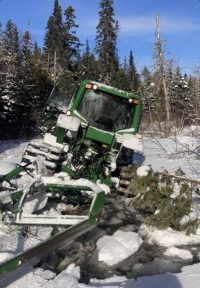 Grooming on the local trails resumed in the past few days after a period where there was not enough snow to do so, as clearly voiced by this unfortunate picture from last Sunday.
Regardless of the improved conditions, it's important for everyone out sledding to still remain aware of their surroundings and potential hazards existing within them. As the trail signs say, "Ride Right, Ride Safe."