From the Bleachers to the Sofa – Presque Isle Parents Frustrated but Grateful for Challenging Season
"It's just heartbreaking," said the mother of a PIHS athlete. The indoor nature of the winter sports season has forced parents to migrate from the sideline to their own living room in order to watch their kids compete.
It's 5:34 am on a Saturday early in March. Rachelle and Kendall Roy have just pulled out of a Tim Hortons drive through somewhere deep in the heart of New Brunswick. Yawning and rubbing their eyes, the family of five is gearing up for their third tournament in as many weekends. 
Down on the coast, hotel rooms are departed and the remnants of breakfasts are discarded as the McAtees and Casavants race through the streets of Bar Harbor, ready to kick off yet another Harbor House tournament. 
For some this may seem like chaos, but for these families, it's just another winter day. Weeks of practice, workouts, carb nights and film sessions are bookended by long hours spent trekking up and down the highway, in and out of gyms and rinks. For them, it would be hard to imagine a world where the doldrums of darkest season are spent on the couch, rather than in the stands.  At least that was the case, until the world shut down last March. 
"I was very sad and disappointed," said Shelly McAtee, mother of junior basketball standout Xavier. "Since before he could dribble a basketball we've been going to games, we've never missed a game, and now all of a sudden we're missing every game."
"Before it didn't matter if the game was at four o'clock downstate during the week, we were there, we've never missed a game, so it's heartbreaking," she said
Such was a sentiment echoed by the Roys, who's two eldest children are nearing the end of their high school careers. "Our initial reaction was frustration," said Rachelle. "Having a senior that has played hockey since he was five and not being able to see him his senior year in person is pretty rough."
Adding to the frustration caused by this situation is the constant the pervasiveness of injuries in contact sports, and the distress of parents for whom the state of their child is discernible only by a lucky camera angle. "We witnessed this fall what could happen when parents aren't there and a bad injury happens," Roy continued, referencing a lengthy game-pausing injury sustained by a Caribou soccer player at a game on the PI turf this fall. "We just think that it's important that a parent should be allowed in to watch their child in case of an emergency. You just don't know when that's going to happen." 
This became a reality for the family mere weeks ago, when junior Jonah Roy suffered a shoulder injury while on a road trip. "It was really hard to get a call last Saturday [February 6)], saying that your child is hurt and he's three hours away, and that we need to meet him at the bus to take him to the ER," said Roy. 
Another aspect of the season lost to circumstance, is that air of postgame congratulations that accompanies a successful night on the ice or hardwood, where parents are now forced to greet the TV remote rather than their children. "It's definitely different after the game, not being able to meet her on the floor and give her that little hug and tell her she did a good job immediately after," said Angel Casavant, mother of Meg, a senior member of the basketball team. "It's just a nice moment that we are unable to have."
It's that sense of community that seems to have been lost the most because of this. "As hockey parents, you become a family since your kids are five," said Rachelle Roy. "So we're just missing a lot of our family and that togetherness of being able to cheer our kids on altogether. It's certainly not the same. But we are very thankful that they can play." 
"It's not only just your kids being able to play and watching them in person," Kendall Roy continued. "These families have been together for ten years, so we've missed the interaction with the other parents and being able to see all the kids after the games to say good job. All of those things go with it."
Despite any grievances the families may have, ultimately they all shared the same singularly positive sentiment regarding the season as a whole, that at the end of the day, their kids still get to compete. "That's something that you kind of go back and forth with," said Chris Casavant. "You're thinking that she's never going to play in that gym again and you're never going to see her (play there), but at least she's getting to play. There are senior football parents that are looking around saying, 'you know, my son's never going to play football ever again in that stadium and we never got a chance to even watch him play on TV' or a wrestler that isn't going to be able to wrestle their senior year so it's kind of a back and forth between grateful and disappointing."
"We appreciate all the time and effort that the communities, the AD's, the coaches, WHOU and the broadcasters have put in to make this happen," McAtee echoed. "So we are thankful and I try to keep looking at that, but we can't help being sad."
While they may not be in the building to watch the games, that tense, vocal atmosphere has carried over into their living rooms. "We might actually be more vocal," said Angel Casavant. "There's no one around us so we don't have to censor our yelling and cheering."
"I think when you sit at a game, it's an emotional rollercoaster," said her husband. "Things are going well… things aren't going well… As a parent you still have those emotions that run through you throughout the game."
Some may not even need to be in the gym to have their voices heard. "We probably yell and scream and get excited just as much as if we were there," said McAtee. "You can usually hear me on the TV broadcasts when I'm there live." She joked, "Some even say that they can still hear me even when I'm at home."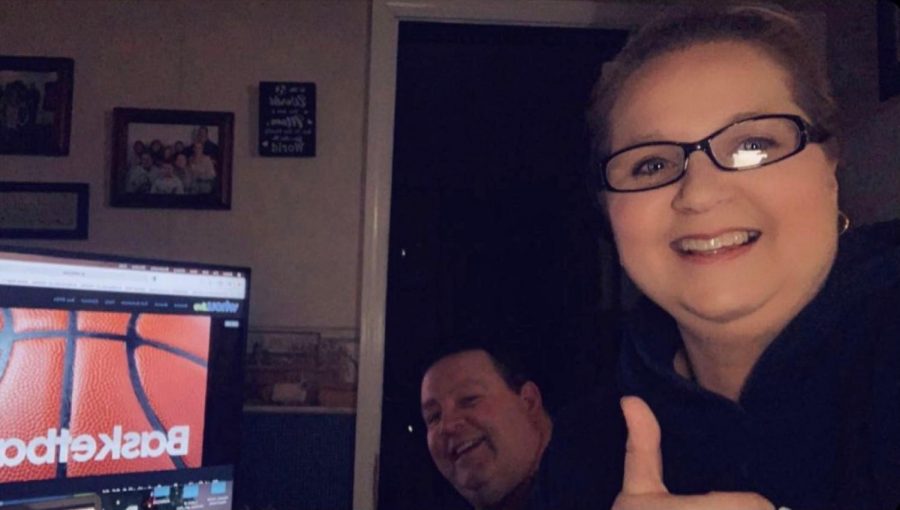 While a multitude of differences may set this season apart from the rest, one thing each family conveyed was a sense of how positively the athletes have been taking it, regardless of the setbacks. "I just want to say that I'm really proud of the senior class," said Casavant. "This has been a hard time, but I don't think I've ever heard a senior complain about missing this or that. They're all just taking it in stride and I'm really proud of them for that. They've been a very resilient class that makes you appreciate what you have in front of you at that moment and to make the best of it. You never know what you're going to be able to do on a day to day basis so I think in these times have really helped us understand that you need to live in the present moment and appreciate and enjoy everything that's in front of you."
Such is a message that has rung clear through the minds of athletes and parents alike this school year. That, at the end of the day, you really have no idea whether today's practice or game will be the last. The end is unpredictable, they've learned that much, but amidst the chaos, games have still been won, memories have not ceased to be made and most importantly, closure has been granted. And for that, thanks are in order.