PIHS student section causes a little controversy
Some people believe the PIHS student section is taking it too far
Rival game returns – with rowdy fans
On Tuesday, January 4 and Wednesday, January 5 the Wildcat varsity basketball teams hosted perennial rival Caribou Vikings. Both games drew large crowds, notable for the fact that this season sees fans back in the gym for the first time since the 2019-2020 season. Caribou girls varsity basketball head coach Kayla Brown commented on the large student sections. "It seems students are excited to get back in the gym to cheer on their peers," Brown said. "It's really nice to see that student camaraderie."
The PIHS student section has been loud and proud at these past few games, but some fans question if they are taking it too far. A lot of attention has recently been brought to the fact that the PI student section turned their backs on the Caribou athletes as they were being introduced. 
Some spectators are bothered – players, not so much
"I can understand from a Caribou parent's point of view where it could be offensive," said Emily Straetz '23, "But I know coming from the student section we meant no harm." Her views were echoed by Rossalyn Buck '23. "I don't really think it's disrespectful," said Buck. "We weren't degrading any of the players, we were simply turning our backs which is something that other student sections are doing."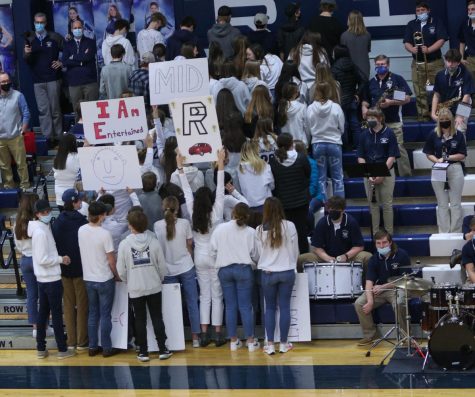 Buck, who also plays varsity basketball, can see from the perspective of an athlete who's at the receiving end of taunting fans. "As a player it makes it a little more nerve-racking," she said, "but it's also really nice as a home team because you really do realize the support you have. And as a student, it's a lot of fun because I get to know my fellow schoolmates better." 
Where some fans in the bleachers were bothered, Caribou team personnel stayed focused on the competition. Caribou girls varsity basketball player Abby Leahy '25 recently moved from Colorado. "I didn't notice that the student section turned their backs," Leahy said. She also added that she hasn't really grown up in the Caribou/Presque Isle rivalry, so it's not as big a deal to her. 
Coach Brown echoed Leahy. "I actually didn't notice that the students turned their backs when our players were being introduced," said Brown. "We teach our athletes to stay focused on what we're trying to accomplish and block out their surroundings. This is a skill athletes develop as they learn and grow.  I appreciate fans as they add to the competitive spirit of the game, but our game plan has to be the focus each time we step on the court."
How do you feel about the student section at the basketball games?
Sorry, there was an error loading this poll.
The positives – and potential problems – of a loud hometown crowd
PI girls varsity girls basketball head coach Jeff Hudson believes having fans is important to the atmosphere of the game. "The fans are a big part of the atmosphere that makes the game special," Hudson said. "The fans, band, and cheerleaders add so much and help get the team fired up.  All the players grew up watching games with all those things and we all missed them last year.  We missed the fans and are glad they are back.  They are part of what makes high school basketball special."
Presque Isle high school principal David Bartlett has to be mindful of an administrator's perspective that goes beyond student school spirit. "I think it's great, but this is true to everything there is always that fine line," said Bartlett. "Certain actions can cross that line, unfortunately, when you have all the positive things happening and one bad thing happens that's what people remember," said Bartlett. 
New theme nights plus return of fans make for great atmosphere
In addition to being back in attendance, students have adopted theme nights.  Straetz, who has helped coordinate these themes so far, believes the themes have only improved the student section experience. "I do notice when we have themes more people show up to the game. It really just brings a whole different vibe to the games," she said.
Although the students and fans from some people's perspective might get a little out of hand, coach Hudson thinks it's good to have them back. "I like everything about the fans coming back. I love the "big" games and look forward to more exciting games with our great student section," said Hudson.