The Win of the Season
Presque Isle Varsity Girls soccer team claims long-awaited victory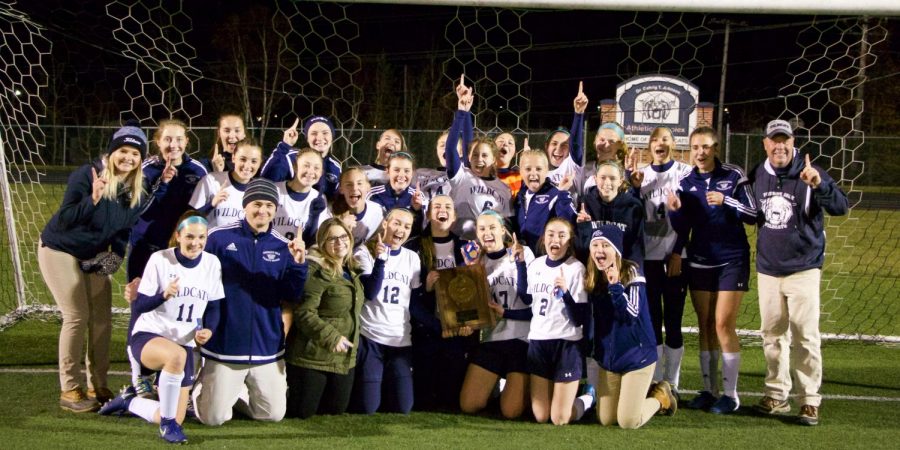 "I thought I was dreaming," Natalie Bates, a senior member of the varsity girl's soccer team said of the regional championship against Hermon. She describes the victorious moment after they defeated Hermon as her team knelt down and they piled on one another and began to cry. Even the morning after, the win would still take time to sink in.
Going into the game brought everyone mixed emotions. "I felt really excited and really anxious at the same time. They had beaten us ever since we were freshmen," senior McKenzie Turner, the team's striker, explained. Winning this game meant more than just the score, it was a personal goal. This was the moment they finally won over Hermon during the Northern Maine Regional Championship.
Come halftime no new plans were made. The score read one to nothing, with Presque Isle in the lead. Playing while giving their all meant no changes were needed. Ralph Michaud, the team's coach, advised "mental toughness" and spoke words of tough love and motivation. "This is going to be the hardest forty minutes of your life. Give it your all, and don't stop now," he encouraged them, sending the team out to bring back the win.
A euphoria blanketed the team and supporters as the final buzzer went off, declaring the victory against the team who had sent them home for the past three years. The team celebrated together in their own way. "We all got in a pig pile and started to cry," Turner said while laughing.
The team's victories went beyond a lucky shot. "We lost once at the beginning of the season, and that is what motivated us into working together," Bates said.  The team's coming together carried them throughout the entire season. "Being with this team has been a fun adventure and I am proud to call them my family. When we work hard together, we win together," Turner said.
According to Dillon Kingsbury, assistant varsity coach for the last seven years, the girls finished the season with a regular season record of 11-3, and finished with a 14-4 overall record. "I felt so proud of this team after winning the NMRC, they had to overcome so much adversity throughout the season and that makes winning a championship so much better.  The road through the playoffs wasn't easy by any means." A send-off pep rally was held Friday the third of November to cheer the girls on as they prepared for the state championship against Yarmouth. Coach Michaud ended the rally with inspiration for all to hear: "I have heard many words to describe my team: the best one I have heard is 'champion'."