Epic comeback sends the Wildcats and their fans into shock
The Wildcats fall short of a well fought game
On Tuesday, September 6 the varsity boys soccer team took the field with determination of winning this time around in their home opener against the warriors of Fort Kent after a rather disappointing start to the season with a 3-0 loss to John Bapst on September 3.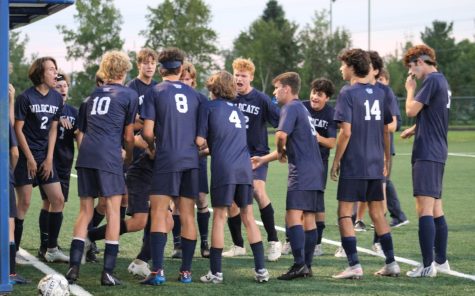 Fans turned out in big numbers, as noted by the players. "It was the biggest student section I've ever seen," Jack Buck '24 said.
The team unfortunately couldn't claw out the victory. Despite the team jumping out to a quick 5-1 lead, the Warriors ended the second half with two quick goals making it 5-3. Fort Kent then used this momentum into the second half and netted two more to make it 5-5. 
The pressure was mounting for the Wildcats, after last year's undefeated season. They didn't want to lose back-to-back games for the first time in a very long time, to start their record at 0-2 on the year.
The Wildcats kept fighting and eventually took the lead 6-5 before the Warriors would eventually have a penalty kick to send the game to overtime, where Fort Kent would eventually win it.
With that loss the only place to go is up and that motivation puts the Wildcats back to work to get ready for their next game right back at the Gehrig Johnson Athletic Complex on Saturday, September 10 against the visiting Trojans of MDI. at 3 pm.