November Music Review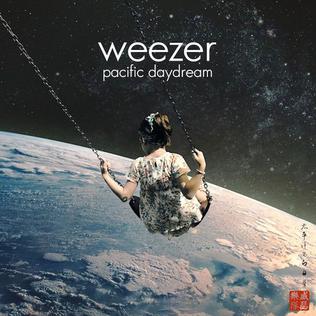 Straggling along at the end of last month is Weezer's Pacific Daydream, an album that promised a continuation of the whimsical California-inspired rock that re-emerged with the White Album. And while a few songs keep that promise, the album altogether falls flat, reusing rhythms that are great in one song but not so much in the other. Additionally, while the lyrics are creative and fun to read, they're clunky and spoil the flow of many of the songs. But there are a few gems including "Weekend Woman" and "Feels Like Summer" that expertly blend the classic Weezer rock and a newer, dreamier pop style.
Shortly after came Maroon 5's Red Pill Blues. While it embraces the same issue that many recent albums are having, this particular album contains toxic amounts of repetition. Whatever song you choose, you'll be bombarded with the title phrase over and over again, unable to decipher any sort of meaning or even any other lyrics amidst the monotonous chaos. Most of the songs are romance-centric, as most songs are, which is fine; it becomes an issue when the writers cannot conjure feelings more complex than bitter break-up, she's perfect, and I miss her.
Also suffering largely from love tropes and repetition – this time in the beat – Sam Smith's The Thrill of It All, seems like a long saga of the same story: lost love. A Sam Smith single can evoke a lot of emotion with the slow, sonorous style, but when you're listening to it for fourteen songs the hurt becomes diluted, meaningless.
The highly-anticipated Taylor Swift album, Reputation, isn't bad. That's about all one can say. It's an amalgamation of a few uninteresting songs and more upbeat classic ones where Swift desperately tries to outline a new phase in her career, but it's nothing new for her. It's simply the same huge radio hits that many people love and others find okay, never really detestable.
The last big album of the month (excluding Sia's Everyday Is Christmas – that one is self-explanatory – and Weird Al's Mandatory Fun, which is best described in only one line: it's silly, it's clever, it's exactly what you expect from Weird Al) is Tove Lo's BLUE LIPS. This album provides a little taste of the variety and honesty that's lacking, even if Tove Lo isn't a great lyricist. She depicts youth in truthful chaos and sometimes sadness, complementing the tone with a dark dance club sound that's introduced by itself in the opening track, "LIGHT BEAMS". While certainly not a masterpiece, it's an entertaining listen.
Joji's EP, In Tongues, swiftly followed last month's single, "Will He," and while it was satisfactory for those anticipating it, it wasn't the break-out that was expected. It was a tame, slower collection, as if testing the waters of the music world.
Lastly, only two singles stand out this month – a comeback track from N.E.R.D and one of the sporadic releases from the Gorillaz. "Lemon," the N.E.R.D single featuring Rihanna is an infectious tune filled with ambiguous political images, including the metaphorical and allusive warning, "Don't drink the Kool-Aid, my friends." Rihanna is always at her peak rapping, a great addition previously in Kendrick Lamar's "LOYALTY" and seeming to have the most fun in her own rap songs, so the song comes out full of energy in every verse. Gorillaz's "Garage Palace" also utilizes a rapper brilliantly, giving Little Simz the spotlight with her dark, low voice cruising through the rapid, video game-esque beat.
Plagued by monotony, this month wasn't the greatest for music, but they can't all be. Many will find enjoyment in individual songs from almost every album, but the whole products are droll. Tove Lo's BLUE LIPS breaks the pattern, and there is, again, a splash of color with our singles.