Lack of Student Presence at Games Presents New Challenge for High School Athletes
As sports in this new era finally come into full swing, athletes are beginning to see the effects of the absence of fellow students at their games and competitions.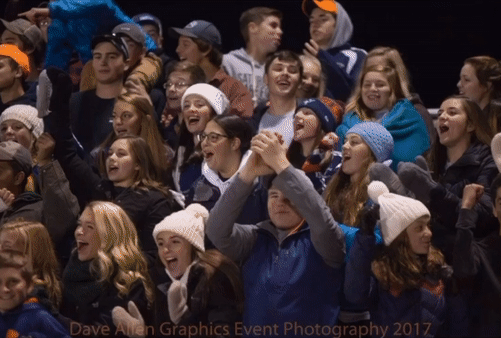 November 4th, 2018. There's a little over nine minutes left in double overtime of the Class B State Championship game. A loose ball finds its way to Drew Cameron, who sends the packed crowd into a frenzy with a cannon of a shot from the top of the eighteen.
Now imagine what that would look like if that game were to take place today. A celebration muffled by masks, the echo of faint voices reverberating off empty bleachers, elation cut short. 
"I honestly don't know what we would've done," said Cameron '19. "The energy from the crowd definitely helped us come back from a 2-0 deficit, a soccer game with no audience just doesn't feel like a game to me, especially a State game."
Student sections and their noticeably loud presence, especially at Presque Isle, have been a staple of high school sports for decades. It's the mark of a good season, when you have the entire school behind you, raucously cheering from the bleachers. The lack of students presents a whole new reality for student athletes so accustomed to the perks that accompany winning. "It's way better when it's loud," said junior soccer player Jonah Roy. "It seems like there's nobody to play for, really."
Despite social distancing restrictions that prohibit a student section in the venue, the cheerleaders, however small their numbers may be, remain on the sideline, rain or shine, chanting to predictably unresponsive rows of metal seating. There's been practically nobody at the games other than maybe two Presque Isle parents [per athlete]," said senior Delaney Alward. "But there's always one cheerleader's dad who always cheers for us and does the cheers with us to encourage us because it's kind of embarrassing."
Alward, in her fourth year of cheering at the high school level, expected this season to be different from the previous three, but hadn't imagined some of the changes that ultimately took place. "I didn't know that the numbers would decrease drastically," she said. "I kind of figured that it would be an altered season, but six girls compared to fifteen is quite different." 
Given the smaller numbers and the assumption that a seriously altered winter season will take place, she says perhaps that her excitement towards the sport has begun to fade. "Yes, it absolutely has. We can't stunt or do any one-on-one contact which is most of what cheering is. We can stand on the sidelines and cheer, but it isn't really cheering without stunting and tumbling."
These sentiments are echoed by other athletes as they look towards the approaching winter season. "It's going to be so much different, we won't have the energy of the crowd and the student section cheering us on," said Hattie Bubar, a senior and returning member of the girls varsity basketball team. "We just won't have that energy. Obviously, we're going to try our best and we're going to focus on the game to win, but it's going to be a lot different. It might just feel like a little scrimmage instead of an actual game."
Senior hockey captain Noah Roy shares many of the same feelings as he prepares for his final season on the blue line. "It's always more fun when the students are there," he said. "They get your going and help you stay motivated to reach the prize at the end."
Roy, a starting defensemen for the Wildcats last season, believes the drive to win will still be there, but the lack of a crowd will hamper the atmosphere of the game. "The energy won't be there like normal when there are crowds," he said. "It's not going to be as hyped because there's nobody there cheering or anything."
It's the energy of the crowd that truly makes school sports as special as they are. Sure, in a professional league, you'll also find packed crowds teeming with loud fans, but at this level, the fan presence goes beyond that. When athletes look into the stands from the field, court, or ice, these students don't just observe a sea of faces, they look out upon their peers, all there with the sole purpose of supporting them and their team. It's a different kind of passion, and one more memory of a normal school year that will be missed.