Coming off a winning season, the golf team played in their third match of this season on Thursday, August 31. The team traveled to Bangor Muni. The Wildcats won their match at Bangor municipal. The medalist was Jack Boone shooting a 41. The final scores
1st: Presque Isle, 173
2nd: Bangor, 183
3rd: John Bapst, 190
Going into Thursday, the Wildcats were 2-0 coming off a win at their home course against Ellsworth and Brewer on Monday, August 28. The low man for the Wildcats against in Monday's match at home  was Grant Stubbs, shooting a 38, leading the Wildcats to a win. The final score of Monday's match was Presque Isle: 159, Brewer: 186, and Ellsworth in last with a 241.
Coming off the win the Wildcats had some personal goals set for Bangor. . "My goals for Bangor are no three putts and to have good course management, no stupid/risky shots," Grant Stubbs '24 said. 
Beyond personal goals there are high standards this season after the PVC first place finish last year. "Our main focus right now is to win PVC's to show everyone we can really play, and then prepare for States," Cooper Boinske '24 said. But what gives this team the edge, what makes them different? "All of us can go low and I have full faith that we can win PVC's and States," Stubbs said.
Last year the team placed seventh in States and needed a redemption season with all returners this year. "It takes a whole team to win, not one or two good players," Stubbs said. 
This team isn't just different on the course. "We are the best team in class B, not only from a golf skill standpoint, but also from a strong team bond perspective," Boinske said.
After every match the Wildcats hold post game interviews with each medalist and a few different players. The interview is posted on their Instagram. "We just click and nothing can break our chemistry because we are all just so close," Boinske said.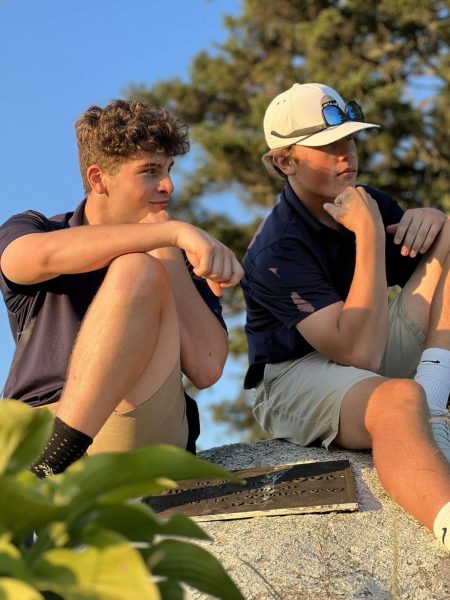 Their next match is Tuesday, September 6, at PICC against Old Town.